Our second album, "Anytime" is out !

Duo Diagonal "ANYTIME" - a wide-ranging album with the innovative classical duo - and a very young vocal soloist.
In Duo Diagonal meet - personified in the harpsichord and accordion - the baroque and the present. Some things change - others do not: Baroque's tonal language is mostly far from our time, but Buxtehude's search for new paths, the quest to surprise, please, entertain, or even shock his audience, is timeless and comparable to Axel Borup-Jørgensen's or Louis Aguirres. "ANYTIME" thus reflects the innovative musical energy of different times - as an imprint of musical periods - with both their distinctive and their universally recognizable content.
On this second album, Duo Diagonal is accompanied by their daughter Gergana Maria Ørvad (b. 2010) - as a vocal soloist in 2 works that are neither baroque nor contemporary: Leonard Bernstein's eminent song cycle "I Hate Music" are songs seen from a child perspective - but this is probably the first time ever that the songs are performed by a child; the songs are extremely demanding, but many of the thoughts and feelings the songs express are entirely an extension of Gergana's own.
And so, in their own search for new paths, Duo Diagonal has arranged two Bulgarian folk songs - a style that Gergana masters at a high professional level - and played a little bit with what happens if you try to combine Bulgarian folk music with baroque!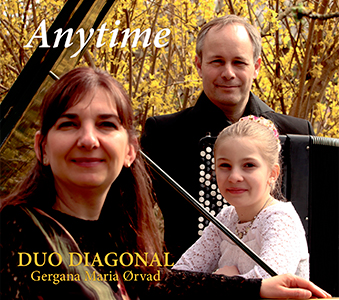 Bestil CD på: gatewaymusicshop.dk
Stream eller download: https://duodiagonal.lnk.to/Anytime


Duo Diagonal's first album "Incontri" (2008) contains baroque and contemporary music by A.L. Couperin, F. Couperin, Mattheson, Bashmakov, T. Ørvad and Vladigerov.
It was very well received by the critics - and was the first CD ever with music for harpsichord and accordion!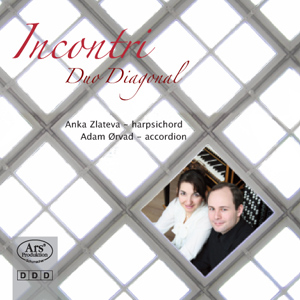 The album contains a comprehensive booklet with data on works and composers in English and German.

Track list:
Armand-Louis Couperin:

Simphonie de Clavecins, D-major

1.

LISTEN (45sec.)



Moderato et marché

2.

Andante

3.

Presto

Leonid Bashmakov:
(f. 1927)

4 inventions for accordion and harpsichord

4.

I. Liberamente

5.

LISTEN (45sec.)



II. Allegro commodo

6.

III. Lento e molto rubato

7.

IV. Andante

Francois Couperin:
(1668-1733)
from "L'art de touches le clavecin"
harpsichord solo

8.-10.

prélude II, IV & VII

11.

Leif Kayser:
(1919-2001)
Impromptu (1991) - accordion solo
Johann Mattheson:
(1681-1764)
Suite a due Cembali, g-minor

12.

1. Allemande

13.

2. Courante

14.

LISTEN (45sec.)



3. Sarabande

15.

4. Gigue

Timme Ørvad:
(f. 1943)
Incontri (2007)


16.

1. Alla Danza

17.

LISTEN (45sec.)



2. Con Sentimento

18.

3. Alla Burla

Pancho Vladigerov:
(1899-1978)
from "Shumen Miniatures" op. 29

19.

- Song

20.

LISTEN (45sec.)



- Rachenitsa
"Incontri" album is released on ARS Produktion, Germany and can be ordered at www.ARS-Produktion.de, buy på iTunes, or streames.
- or order directly by writing to us Price 14 euro,- + shipping.