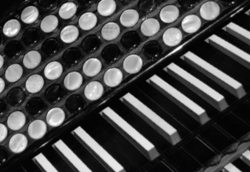 Duo Diagonal is a innovative duo with a very special instrumental cast: harpsichord and classical accordion.

The heyday of the harpsichord's was in the Baroque period, while the modern concert accordion especially in the last decade has become recognized as a classical solo instrument. Today they are both equally vivid - and are related to each other by both being polyphonic instruments supplied with multiple keyboards and registers ...

Two instruments that historically and acoustically are almost at "cross currents" and yet heard together surprise the listener with a great tonal depth, intensity and wealth of nuances.

The instrumentation gives possibilities of a uniquely varied and colourful repertoire; both musicians are equally at home in music from baroque and contemporary music – and in music from around the world. The two instruments are experienced each in their customary element – and in wholly untraditional ways.

Duo Diagonal performs with same commitment music from the great period of the baroque harpsichord and music from the 20th and 21st century. The musical work includes lessons with professors of early music Lars-Ulrik Mortensen, Karen Englund and Sirkka-Liisa Kakkinen-Pilch at The Royal Danish Academy of Music – as well as work with composers who, inspired by the unique acoustic dimensions, have dedicated new works to Duo Diagonal.


In 2008 Duo Diagonal to much critical acclaim gave out their first album "Incontri" - and their second album "Anytime" has just come out!ª


Duo Diagonal, formed in 2005, has performed at concerts and festivals in Denmark and abrod - including:
Aarhus Music Hall
Fuglsang Week of Chamber Music
Art Museum Sønderjylland, Tønder
Copenhagen Town Museum
Rundetårn, Copenhagen
Summer Concerts in Rudersdal
The Grieg Akademy, Bergen
Boris Hristov Music Centre, Sofia
Easter Festival of Contemporary Chamber Music - Sofia
International Festival of Chamber Music - Plovdiv
"Classical Summer" in Slangerup Church
- and in a long row of Danish churches.